Serving the Kansas City metropolitan area.
Behavior problems in dogs are most commonly caused by a lack of communication between two species.
I don't believe that there are "bad" dogs. And I feel that most people are quite well intentioned. It is often the case with problem dogs that there is a short circuit in knowledge and understanding between two species that neither think nor communicate in the same way. I work to bridge that gap by enhancing your understanding of the true nature of the domestic dog while working through your dog's specific behavior problems. I encourage in others what I use myself, a gentle, structured approach that showcases clear communication between owner and dog with appropriate and fair expectations of both. My techniques, while being subtle, encourage trust and gain respect. This is the very foundation that lies beneath any stable dog.
Every dog is different. Every person is different. I recognize this and work to find a solution to your dog's behavior problems that are achievable by you as the dog's owner. I work directly with owners to teach them the skills they need to have a happy, peaceful household with their beloved best friend.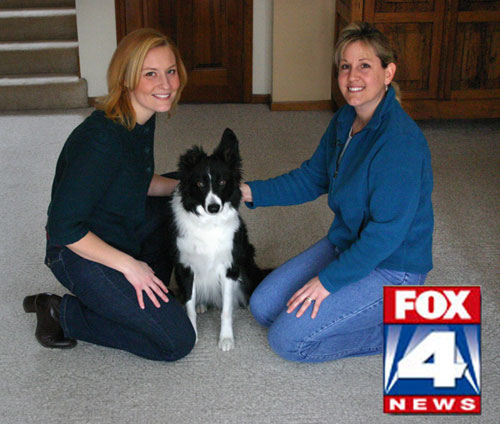 Joni in a local Fox 4 TV news special report on dog behaviorist and dog trainers with Tess Koppleman, Lessons for Teaching a Bad Dog New Tricks
"Learning is a part of life. Our dogs can teach us things not only about canine behavior but also things that we often need to learn about ourselves…" — Joni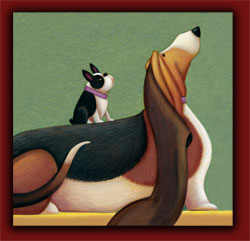 Some dog behavior testimonials.
---
"When Jack, our rescue Border Collie came to stay with us he had an extreme fear of being crated up. I became reluctant to put him a crate because, based on my past experiences with him, I thought he might destroy the crate and/or hurt himself. Joni worked with him for about an hour one day, and since then he has never had any resistance to "kenneling up" and sometimes chooses to sleep in his crate. I am still amazed at the change in his behavior. It has definitely been a "win" for both of us."
— John
---
"Thanks so much for helping us.  After only one day we are seeing a dramatic improvement in all three of the dogs. Violet's aggression is now minimal and she is interacting with Penny and Hoppy – She even did a play bow and rolled onto her back with Hoppy this morning! Penny walked on a leash from the corner to our back door. Hoppy is now releasing on command when we play fetch. Everyone is much happier, calmer, and barking a whole lot less! Robin and I are so pleased and committed to continuing.
Thanks again for your great advice, insight, and having so much patience with us. We will definitely recommend you to our neighbors and friends."
— Karen
---
"It was two weeks ago today that you came over to save the day for us (and Bailey). She is SO much better now than before we met you. Bailey is getting along with our son Jason pretty darn well! She has stopped growling at him and actually lets him pet her! He asserts his dominance and she submits when he stands strong. My son is SO happy about these changes in behavior. And so are we!! She LOVES taking walks and is so good about knowing her rightful place when we walk. She does still growl a little when a man walks in. She's less likely to growl at women but we keep her in line and she responds in a positive way. We just love her so much when she's in her happy place!! Even when she's not perfect, she's still a great dog now that we don't think she will attack anyone anymore. Thanks for sharing your knowledge with us because without your help, we wouldn't have been able to keep her. Hooray for you and Bailey and us!!
"
— Steve
---
With many years of experience in dog training and dog behavioral issues, Joni Johnson-Godsy is a Dog Behaviorist, Dog Trainer, and Dog Obedience Trainer serving the greater Kansas City area, including but not limited to Johnson County Kansas , Kansas City Kansas , Kansas City Missouri , Independence Missouri , Olathe , Overland Park KS, Merriam KS, Shawnee KS, Lenexa KS, Roeland Park Kansas, Fairway Kansas, Westwood Kansas, Prairie Village , Mission , Leewood , and Lee's Summit Missouri .