"Sharing life with a stable dog is achieved by understanding and correct practice. A harmonious life with all dogs is not acquired through ignorance or by a simple training session. It is only attainable if it is to be a way of life." — Joni

Joni is an award winning artist, photographer and dog trainer. Her many years at the end of a training leash have enhanced her idea that with correct handling and an appropriate relationship, any dog can be a good companion and citizen. More than two decades of experience have given her the ability to "read" what a specific dog needs to become a stable and happy friend.
Joni's work as a wildlife artist has required intensive study of the wild animals that she portrays in her paintings. Her observation and close contact with wolf packs in captivity have given her a special insight into canine behavior that has greatly influenced her dog training and handling techniques. "Wolves are dogs in "raw" form and have much to reveal about our beloved best friends. I use our dogs' wild cousins as teachers and as inspiration in all of my training and behavioral work. Wolves have taught me how to understand the language of another species."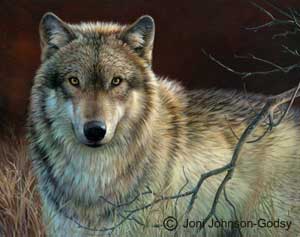 Joni's acrylic painting – entitled "Uninterrupted Stare"
---
RESUME
1985- 1995: Trained dogs for the American Kennel Club obedience show ring.
* Highlights include: Highest Scoring Dog in Trial, Obedience Trial Championship points on each dog titled, Novice through Utility level titles on two different breeds, numerous class placments and scores of 197 and above (out of 200 total points), several "Dog World Awards", Greater Kansas City Dog Training Club's annual "Perpetual Award" and "Challenge Award" winners. Greater Kansas City Shetland Sheepdog Club's "Hummel Award" winner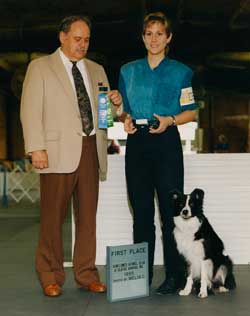 1986-1994: Obedience instructor for Greater Kansas City Dog Training Club
(Beginner, Novice and Open levels)
1989-1990: Training Director– Greater Kansas City Dog Training Club
1990- 1993: Trained dogs of two different breeds to successfully earn American Kennel Club tracking titles.
1990-1993: Taught AKC tracking classes
* Highlights include multiple students' dogs earning American Kennel Club tracking titles.
1993-1998: Taught private and semi-private competition obedience lessons in own facility (Open and Utility levels)
Taught semi-private lessons for therapy dog puppies.
* Highlights include students earning numerous American Kennel Club obedience titles in advanced levels with respectable and often high scores.
1999-2000: Trained and owner-handled a dog to American Kennel Club conformation Championship.
2000 to present: Worked on behavior problems on an assortment of dogs which include biting, marking in the home, off leash control, barking, obsessive shadow chasing, ceiling fan chasing, charging the front door, excessive shyness, dominance issues, excitement urination, etc …
1999 to present: Embarked on intensive study of wolf behavior with several captive wolf packs which includes close contact with the wolves and pack hierarchy observation.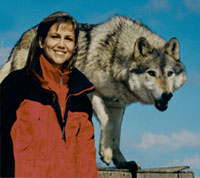 2004-2007: Rehabilitated own dominant aggressive Border collie acquired through rescue and others also acquired through rescue.
2004-2007: Trained own dog for on set photography shoots for an assortment of commercial advertising companies.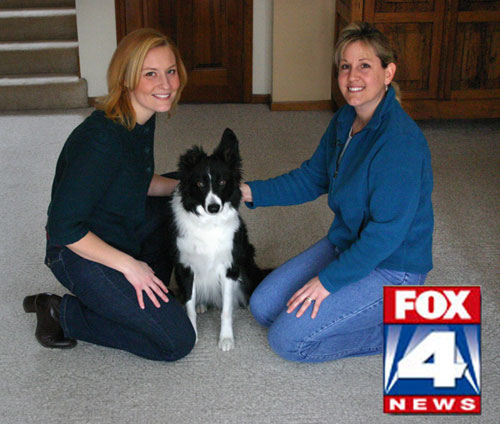 Joni in a local Fox 4 TV news special report with Tess Koppleman, Lessons for Teaching a Bad Dog New Tricks